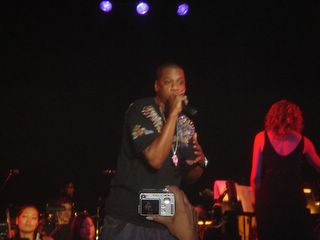 What the F*ck More Can He Say?

Too many things happening to list them all, however June 25 was a glorious evening at the Nokia Theater. Jay-Z performed Reasonable Doubt from back to front in front of a sold out crowd accompanied by Just Blaze, ?uestlove, and his orchestra? So what, tonight's performance will have Foxy, Beyonce, Mary J. et al...last night's very small venue (and super close-front row seats, or standing)was classic. In response to
XXL's YN
, yes you did miss alot after you left....Jay held an "Overtime Session". In short, Jay and his eternal hypeman(Bleek) performed countless hits (e.g
Encore,
Where I'm From, Streets Is Watching,
What More Can I Say
et al.)
However, the highlight of the night was Jay-Z's updated version of Reasonable Doubt's Twenty-Two 2's (
Forty-Four fours
) was classic. I was very impressed...... Til next time.....